View of the region ...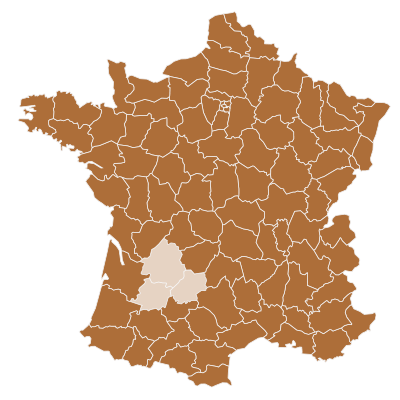 The Gardens of France ... this is how the region has been called since a long time, and with reason. The landscape here is a series of small valleys full of surprises, where at every turn a small village on the water can be crossed here, there a castle or bastide on top of a hill. It is endless, every landscape is unique.
And there is life throughout the year, in local markets, where they exchange more than just fruit, vegetables, plants, but also news of one another. Many festivals throughout the summer, culminating in fireworks on national day, July 14th.
This region keeped its authenticity, without being cut off from the world so far, with proximity to major business areas like Bordeaux and Toulouse, as well as Bergerac, Cahors, Villeneuve-sur-Lot, Agen, amongst others.
Agen is the head place of the department, Villeneuve is at the center of the production area of the Ente plum, better known under the name of Pruneaux d'Agen, once dried in the oven. In Villeneuve-sur-Lot, as its name suggests the river Lot, which offers beautiful boat tours, a lot of fishing, or just a nice picnic on its banks. This is a perfect area for lovers of hiking, biking, horseback trails...